Signal DAQ- 4 : Four Channels Telemetry Board
(Simultaneous Sampling with max 192 kHz)
Signal-DAQ-4 is a precision data acquisition board optimized for signal and noise measurements and monitoring applications. It is capable of analogue signal conditioning, sampling and interfacing via UDP/IP (Gbps). It is introduced either OEM or a completed product for the end users. Sensors which have voltage output such as hydrophones, accelorements and microphones can be integrated to DAQ-4 Telemetry board.
Signal-DAQ-4 board is configured for four channels for simultaneous processing. Digitized data is sent out to a computer via ethernet connector (RJ-45) over UDP/IP protocol. You don't need to install any driver to run and interface with the board. SignalSOFT software is provided both to record digitized signal onto the HDD/SSD and to visualize hyrophone data.
PCBs have optional analogue signal conditioning functionalies. It is also possible to integrate pan, tilt, compass and pressure sensors directly onboard the PCB. Data measured by the sensors directly transferred within UDP packets.
Please download our common datasheet Sonartech DAQ Boards Common Data Sheet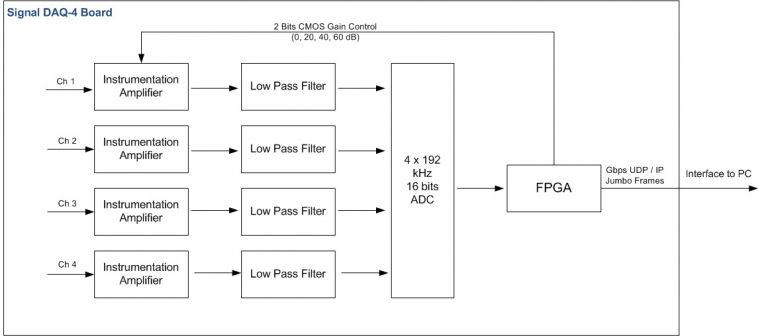 Specifications of Signal-DAQ-4 (4 Channels Data Acquisition Board)
Input Voltage Range 9-36 VDC
Sampling Frequency 24 kHz or 48 kHz or 96 kHz or 192 kHz simultaneously per channel
Sampling Precision 16 bit (16 MSB of 24 bits sampling)
Input Channels 4 (four)
Input Impedance 1 Mega Ohm
Frequency Response Flat from DC up to 96 kHz (when sampling frequency is 192 kHz)
Analogue Signal Conditioning (optional) High Pass Filter, preamplification (+32 dB), programmable gain amplifier (Between 0 dB and +60 dB,settings per channel)
Total Harmonic Distortion (THD) < 0.002% (0.5 Vrms signal level)
Spurious Free Dynamic Range > 96.32 dB
Noise Floor (terminated inputs) < -133 dBVrms
Input Connectors 2 way Header connector (single ended/Diffrential)
Drivers No driver is needed and easily connected to any computer with Windows or Linux operating systems
PC Interface Gbit ethernet (optional software to select gain, record data and visualize signal)
Software (optional) PC software SignalSOFT (Windows compatible) to record data in standard wave format and analyse
Operating Temperature Range 0ºC to +50º C
Dimensions (mm) (85 x 60 x 60) (length x width x height) (without mechanical box)
Dimensions (mm) (137,20 x 108 x 108) (length x width x height) (with mechanical box)
Weight 50 grams